Please email us and we will send the latest menus. - bookings@thefoxhouseinn.co.uk
NOTE: Please allow min 24hrs for us to respond to any menu email request. Thank you.

Bar Meals


This menu has been produced using only fresh seasonal ingredients sourced locally from farms to markets when possible by our chefs to showcase the produce of the surrounding areas, all meat is butchered by ourselves on the premises by our chefs.

This menu incorporates a varied selection of traditional to modern British dishes which we hope will not only satisfy but interest you.

This menu runs alongside our specials board which will change throughout the day. All dishes are homemade by our chefs each has added a few of their own dishes, due to the choice on this menu it is an inevitability that at busy times or for reasons out of our control that some dishes may run out, we ask that you bare this in mind if your dish is no longer available.

All meals are cooked to order and at busy times we ask that you take this into consideration when waiting for your meal.

The Bar


We stock a wide selection of beers and lagers with 6 guest pumps rotating weekly including local micro brewers.

A wide selection of wines & champagnes are available from around the world.

We stock a wide and varied selection of malts and cognac with a special old bourbon and whiskey menu.
---
The Early Bird Menu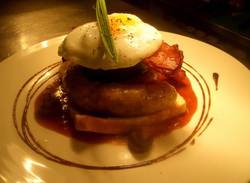 The early bird menu is a smaller menu for smaller appetites still using the same quality ingredients as all our menus do.
Our blackboard menu changes daily and we serve the early bird menu in the bar:
Tuesday to Friday from 11.30am until 2pm and then in the evening from 6pm until 7pm
Saturday lunchtimes from 11.30am until 2pm

NOTE:
Our Early Bird Menu is a separate Blackboard menu that changes frequently dishes are not included from the main bar menu and the early bird portions are smaller.
---
---
One Course £5.95
Two Course £9.95
Three Course £13.95
---
Example Menu
Garlic Mushrooms
Roast Parsnip Soup with herby croutons
Chicken Liver and Brandy Pate
Yorkshire Puddings with Onion & Ale Gravy
BBQ Chicken Wings
Garlic Bread
* * *
Hot Roast Beef & Onion Sandwich with a basket of Chips
Chilli Con Carne with steamed rice
Penne with Mushroom and White Wine Parmesan Shavings
6oz Gammon Ham with Egg and Basket of Chips
Braised Beef in Ale Stew with Yorkshire Pudd
Breaded whole tail scampi and chips
* * *
Chocolate Fudge Cake
Sherry Trifle
Warm Chocolate Brownie with Chocolate sauce and Ice-Cream
Sticky Toffee Pudding
Strawberry Cheesecake
Apple Pie