The Carvery


---

The Restaurant
Our new a la carte Sunday Lunch Menu


We are now serving our new a la carte menu on Sunday from 12noon until 8.30pm along with chefs specials of the day including the traditional roasts. Choose from 1 to 4 courses priced individually

A smaller table d'hote menu in the restaurant

This runs alongside our a la carte menu

2 Course £15.95


3 Course £19.95
---
The Great Yorkshire Pudding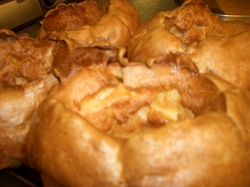 A perfect Yorkshire Pudding mixture needs to be light and airy with the fat in the bottom of the cooking dish needing to be as hot as possible in order for it to rise. However, his description may not be entirely accurate; the exact origins of the Yorkshire Pudding are unknown, the general consensus being that it is a dish associated with the North of England. The prefix "Yorkshire" was first used within a publication by Hannah Glasse in 1747, in "The Art of Cookery Made Plain and Simple". This distinguished the light and crispy nature of the batter puddings made in this region from batter puddings created in other parts of England.
The original purpose of serving the batter pudding was not as part of a main meal, in the way that it's served with traditional roast dinners now, but instead served before, with gravy, as an appetiser course. This is because, when meat was expensive the Yorkshire pudding could act to fill the consumer, meeting the appetites of working men and allowing the meat to stretch further: "Them 'at eats t'most pudding gets t'most meat", as the saying goes.
The pudding would have originally been cooked beneath the meat (usually beef) roasting on a spit above a fire. This position would have meant that the fats and juices from the meat could drip onto the batter pudding, flavouring and adding colour. (The initial name for cooking a batter in this way was "Dripping Pudding".) This also meant that these drippings, essential in the diet, particularly for working men, were utilised rather than lost to the fire. Sources of these essential fats, particularly in the North of England, were more difficult to obtain at that time, especially with the cost of meat, so every drop that could be used, was.
It is traditionally cooked in a large, shallow tin and then cut into squares to be served, rather than the individual puddings you can buy in supermarkets today. Also, in today's Sunday roast dinners, Yorkshire puddings are included whatever the choice of meat, rather than just with beef as is the tradition. Yorkshire puddings, as the accompaniment to the "British Sunday Roast", have become such a part of the British institution that they have been nominated their own day of celebration – the first Sunday of February.
There are now more modern variations on the earliest Yorkshire pudding recipes, perhaps the best known being 'Toad in the Hole'. This is where sausages are cooked within a large Yorkshire pudding and served with onion gravy. It is also common to be able to buy entire meals with meat, root vegetables and potatoes all served within a large, round Yorkshire pudding, almost like a stew or casserole within a batter casing. Of course the batter recipe (minus the ground pepper) is just like that used for sweet dishes like pancakes. And this was how leftover Yorkshire pudding pieces were used up; reheated and served with jam or fruit or syrup the next day. The crispiness of the Yorkshire pudding meant they kept well to be eaten later, and again, nothing was wasted.
The recipe that we use is one which I developed in our kitchens to try and give us a consistent pudding using fresh ingredients from the farms around us. We make around 2000 puddings every week!
By Ellen Castelow, Contributing Writer
Historic UK.
---
---
Our Suppliers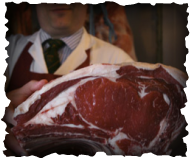 Here at the Fox House we pride ourselves in using only reputable local suppliers that surround us the majority being farms with traceable back to source ethics.
Take a look at one of our butchers, Brindon Addys, his shop
is a credit to all the hard work both himself and his team do and showcases all that is exceptional in the area. You will not find a better selection of local produce from a traditional butcher.
Visit his shop here
Our Turkeys are of exceptional quality and we have a long standing relationship with local farmer David Heap.
Carol Fox from the Fox Farm supplies us with potatoes all year round.
---
Brindon's 21 day aged 16oz Rib eye Steak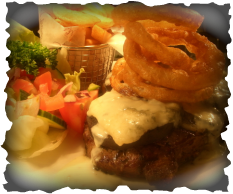 We serve a selection of cuts all aged 21 day an industry standard to ensure quality texture and taste.
J. Brindon Addy takes a more holistic view. Dry-ageing makes for tastier meat, and it's their award-winning produce that brings our customers back, so dry-ageing – for us – is on the menu. They have their own, on-site maturation fridge that lets carcasses hang freely in a controlled environment. Optimum conditions for dry-ageing include substantial fat marbling in the meat a constant temperature and the correct humidity.
The most crucial ingredient in the dry-ageing process is an experienced butcher, because the process of dry-ageing certainly isn't easy.
We leave this to Brindon!
---
---